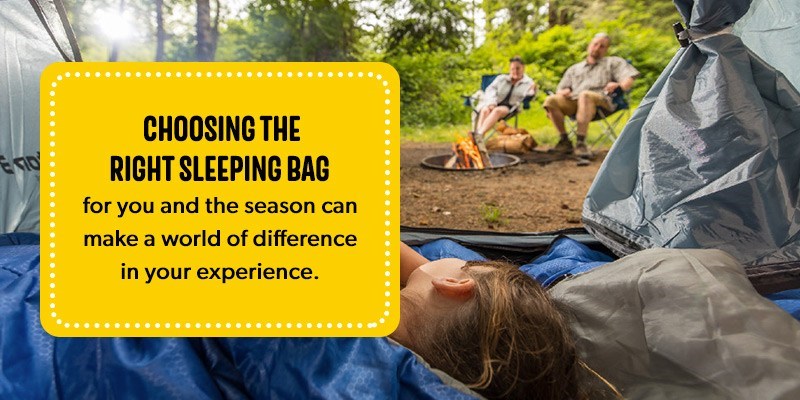 Achieve the ultimate camping experience by prioritizing a restful night's sleep. Explore our comprehensive guide to selecting the ideal sleeping bag for your outdoor excursions. With an abundance of options to choose from, we'll assist you in making informed decisions tailored to your camping requirements. Ensure maximum comfort and warmth with the perfect sleeping bag selection.
1. Temperature Rating
The temperature rating of a sleeping bag indicates the lowest temperature at which it can keep you warm. Consider the typical weather conditions and seasons in which you'll be camping. If you primarily camp in warm climates, a sleeping bag with a higher temperature rating will suffice. For colder conditions, choose a bag with a lower temperature rating to ensure adequate insulation.
2. Insulation Type
Explore the world of sleeping bags and discover the perfect insulation for your camping adventures. With a variety of options available, you can choose between down and synthetic insulation to meet your specific needs. Experience unparalleled warmth-to-weight ratio and compressibility with down insulation, perfect for frosty nights under the stars. Alternatively, opt for the reliable performance of synthetic insulation, which excels in damp conditions and dries quickly. By considering the pros and cons of each insulation type, you can ensure a comfortable and enjoyable camping experience in any environment.
3. Sleeping Bag Shape
Discover the perfect sleeping bag for your camping adventure with a range of shapes to choose from. Opt for a rectangular design if you value space and freedom of movement during your slumber. For those seeking optimal warmth and efficiency, the snug mummy bag is the answer. And if you crave a balance between comfort and thermal benefits, the semi-rectangular bag is your ideal companion. Don't compromise on your comfort. Select the sleeping bag that suits your needs perfectly.
4. Length and Size
Ensure that the sleeping bag is long enough to accommodate your height comfortably. Most bags come in regular and long sizes, with long sizes being suitable for taller individuals. Additionally, consider the overall size and weight of the sleeping bag, especially if you plan to carry it on backpacking trips. A lightweight and compact sleeping bag is preferable for backpackers, while car campers may prioritize comfort over weight.
5. Features and Extras
Consider additional features that may enhance your camping experience. These can include a hood for added head warmth, draft tubes to prevent cold air from seeping in through the zipper, zippered pockets for storing small items, and a two-way zipper for ventilation options. Evaluate these features based on your preferences and the specific conditions you'll encounter during camping.
6. Budget
Determine your budget range for a sleeping bag and explore options within that range. While high-quality sleeping bags can be a long-term investment, there are also affordable options available that provide adequate comfort and functionality for casual campers. Consider the value and durability of the sleeping bag when assessing the price.
7. User Reviews and Recommendations
Read user reviews and seek recommendations from experienced campers or outdoor enthusiasts. Hearing about others' experiences with specific sleeping bags can provide valuable insights and help you make an informed decision. Pay attention to aspects such as comfort, durability, and performance in various weather conditions.
Choose the perfect sleeping bag for your camping escapades by considering important factors and your personal preferences. Rest easy and enjoy a comfortable sleep amidst your outdoor adventures.